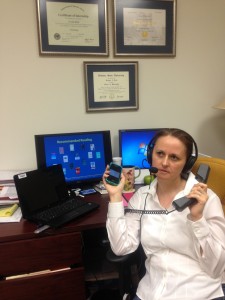 Day 22- It seems that there is no time for time…or to do enough in that time. If I let myself get caught up in this ideology I will start thinking about all of the things I have to do and the amount of time left.  The super calculator in my brain would just combust.  Our sense of time is nonsensical. Anyway, I know better. See, I didn't even list the things I am trying to do right now.  In the years of my Type A recovery I have learned that multitasking is not a real thing.  Most importantly, I have learned to just let go and do what I can, one step at a time, and to be present for it.
So if you are feeling any twinge of not having enough time, focus, organization, or whatever it is you don't have enough of, this is my offering to you.  For the rest of the Real Happiness Meditation Challenge check out MyMindfulWayofLife.com and access our 5 minute Meditation on Breath: Click for meditation
Check out the full meditation CD with soothing sounds of nature here or download it on Itunes by searching for Mindfulness Based Biofeedback by Urszula Klich.
Share and Enjoy