Dr. Klich is also a contributing author of AAPB, and the conscious living website, Live Through The Heart...read articles here
Association for Applied Psychophysiology and Biofeedback
Recommended reading list
The Clinical Handbook of Biofeedback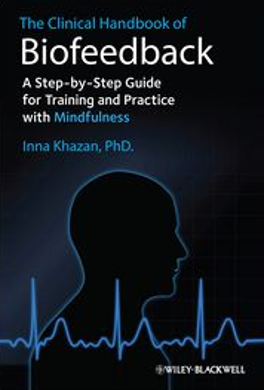 Wise Mind, Open Mind

Wise Mind, Open Mind offers a powerful three-step mindfulness approach to help you navigate times of unwanted change, rediscover your inner well of creativity, and move forward with passion and purpose. This book combines techniques drawn from contemporary mind-body approaches, Buddhist psychology, mindfulness, creative thinking, and positive psychology to show you how to tap into your gifts and create a practical plan for personal transformation that will help you move through the challenges you face. Dr. Alexander's workshops are internationally renown.  I have yet to meet someone who who has not emerged transformed!
Excerpts From the Heart of a Mom

  **We invite you to tune into an exclusive Interview with Author Jennifer Laurent on our media page.
Laurent has a rich background as a clinical social worker, coach, yoga instructor and mom.  She writes a book that is heartfelt, authentic and inspiring.  In it Laurent poses 25 concepts and practical ideas for practicing conscious parenting.  The book is easy to read and refreshing.  It is not a how-to book but rather a "how to do what you do better" book.  As a result it is likely to encourage rather than direct as some parenting approaches might.  Hear more… Books can be purchased from LiveThroughTHeHeart.com.  
Full Catastrophe Living
This book describes Jon Kabat-Zinn' mind-body program at the university of Massachusetts Medical Center.  With the program you can learn to manage chronic pain resulting from illness and/or stress related disorders…discover the roles that anger and tension play in heart disease… reduce anxiety and feelings of panic…improve overall quality of life and relationships through mindfulness meditation and mindful yoga.
A Path With Heart
Jack Kornfield (1993) In undertaking a spiritual life, we must make certain that our path is connected with our heart, according to author and Buddhist monk Jack Kornfield. The book holds many nuggets of wisdom which can be readily applied to everyday life.
Going to Pieces Without Falling Apart
Mark Epstein (1999) Mark Epstein is questioning whether we have it all backward. As a psychiatrist and practicing Buddhist for 25 years, shows us that happiness doesn't come from any kind of acquisitiveness, be it material or psychological. Happiness comes from letting go. Weaving together the accumulated wisdom of his two worlds–Buddhism and Western psychotherapy–Epstein shows how "the happiness that we seek depends on our ability to balance the ego's need to do with our inherent capacity to be." He encourages us to relax the ever-vigilant mind in order to experience the freedom that comes only from relinquishing control.
Loving Kindness
Sharon Salzberg (1997), a meditation teacher and the founder of the Insight Meditation Society in Massachusetts, focuses on a kind of Buddhist practice that emphasizes feelings of love, happiness, and compassion. Metta, or "lovingkindness," In this inspiring book, Sharon Salzberg, one of America's leading spiritual teachers, shows us how the Buddhist path of lovingkindness can help us discover the radiant, joyful heart within each of us. This practice of lovingkindness is revolutionary because it has the power to radically change our lives, helping us cultivate true happiness in ourselves and genuine compassion for others.
The Wisdom of No Escape
Pema Chodron (1991) This book is about saying yes to life in all its manifestations—embracing the potent mixture of joy, suffering, brilliance, and confusion that characterizes the human experience. Pema Chödrön shows us the profound value of looking at our situation in a different light.
Thoughts Without a Thinker
Mark Epstein (1995)Drawing upon his own experience as therapist, meditator and patient, Mark Epstein, a New York-based psychiatrist trained in classical Freudian methods, attempts to integrate Western psychotherapy and the teachings of Buddhism.  
The Language of Letting Go
Melody Beattie(1990) Language of Letting Go is a collection of daily meditations. From the author of Codependent No more, comes a thought provoking pocket reference to reflecting on everyday feelings, thoughts and events.
Back Sense
(2001) On occasion nearly everyone experiences short-term back pain from sore or strained muscles. But for many who come to treat their back gingerly because they fear further "injury," a cycle of worry and inactivity results; this aggravates existing muscle tightness and leads them to think of themselves as having a "bad back." Even worse is the understandable but usually counterproductive assumption that back pain is caused by "abnormalities"–bulging disks, a damaged spine, and so on. However, these abnormalities are frequently found in those who have absolutely no pain whatsoever. In reality, most backs are strong and resilient, built to support our bodies for a lifetime; truly "bad backs" are rare.  This book presents an alternative way to approach targeting the true causes of chronic back pain. It is based on conclusive evidence proving that stress and inactivity are usually the prime offenders, and it allows patients to avoid the restrictions and expense of most other treatments.
Coming to Our Senses
From Publishers Weekly Starred Review. "For any of us, perhaps our greatest potential regret may be that of not seizing the moment and honoring it for what it is when it is here," writes bestselling author Kabat-Zinn.
Wherever You Go There You Are
Jon Kabat-Zinn (2005) In his follow-up to Full Catastrophe Living–To Kabat-Zinn, meditation is important because it brings about a state of "mindfulness," a condition of "being" rather than "doing" during which you pay attention to the moment rather than the past, the future, or the multitudinous distractions of modern life. Review from Amazon.com
The Complete Idiots Guide to Zen Living
Gary Mclain & Eve Adamson (2000) As an adult who leads a busy life, you have to deal with the stresses of home, work, and family. The Buddhist idea of Zen seeks to help you reduce stress so that you can remain calm when conflicts arise.
The Power of Now

A #1 New York Times bestseller. Ekhart Tolle's message is simple: living in the now is the truest path to happiness and enlightenment. And while this message may not seem stunningly original or fresh, Tolle's clear writing, supportive voice, and enthusiasm make this an excellent manual for anyone who's ever wondered what exactly "living in the now" means. Review from Amazon.com
Share and Enjoy